prenzlauerberg - kollwitz platz neighbourhood

i am currently documenting my neighbourhood. doing this properly will take some time, but here is a start. i am trying to find all the little cafés, bars, restaurants, shops, and so on around here, and also trying to document the feeling of the neighbourhood in general. i am not so happy with the colours in the images. many of these places look much warmer in real life. i think i will have to pay more attention to the colour balance to get it right.

so far i just have a bunch of pictures of the cafés, bars and restaurants along the way to my three favorite hangouts. the little red dots are where there are places, and the lines are where i have covered so far. i didn't miss any places along those lines, to my knowledge, ie. it is complete along the lines. the dots are clickable to see the description of the place and what it looks like. the map is probably about 1.5 km (~1 mile) square.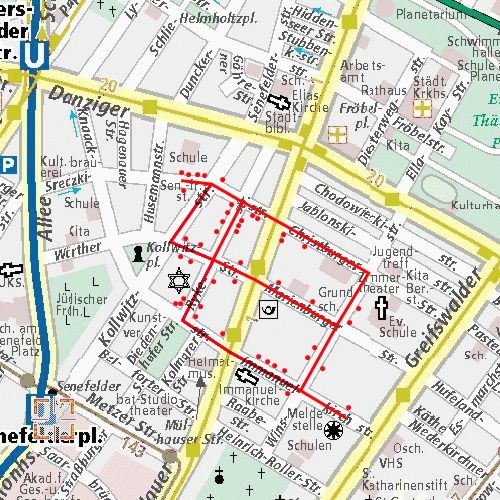 akba

another tiny little place, right next door to tarot. slightly different crowd, but not in any sense that is easy to place a finger on. also red, also alternative, also popular. bar.

am wasserturm

jewish restaurant (there is a synagogue a few doors down). very popular, seems an older, well-established part of the neighbourhood. i will try it. restaurant.

update: it shut down, and pasternak café opened up instead. they do have russian-jewish food on the menu, so i wonder if they had the same owner?

bahu

decent indian food, medium-busy. it is nice inside with wood, and interesting levels in the floor. not expensive, but also not excellent. good though. restaurant.


balsavil

very small middle-eastern borderline-imbiss restaurant. seems popular, and is probably cheap.

bangkok treffpunkt

looks like a low-end restaurant, but sometimes these places can have very good food at reasonable prices. there are lots of good vietnamese food places around here though, so it would have to be something to become a favorite. restaurant.

café freyfuss

i have just been here once. i like it. it is a bit like a second cup, or a starbucks, but it is a one-off and is nicer than those. closes around midnight. relaxed, very young staff. a nice sort of place to sit inside and write or draw. café.


cenone

i haven't been here yet. to be honest, it rarely looks open. it looks nice, but i think its location makes its life difficult. too close to prenzlauer allée, and wrong side. it looks upscale too. this neighbourhood is wealthy, to be sure, but it is not a flashy wealth. restaurant.
chandni

indian resturant on my street. never empty. good food, cheap prices. restaurant.
club

seems busy-ish and ok. no particular interest in the place, but i will check it out. restaurant/café.

coffee star

looks like a stand-up coffee bar. nothing special. it might be fine, but with café dreyfuss right across, i don't quite see why anyone would go here. i guess if you want a coffee to go. only open during the day. café.

coffy

this place is a club, and seems to be densely populated with young crowds, around twenty or so. a friend of mine recently went and wasn't so impressed, but it is typically very busy. bar/club.

die drei

die drei is one of my favorite places. it is not incredibly busy, but the owner is incredibly friendly, as is his girl-friend/wife, and one of the waitresses is an artist, and is very friendly, since i sat in there drawing once. nice place, quiet, good taste. bar/café.



dr. stockmann

i have been walking by this place, looking in a lot. it is often empty-ish, but looks really nice. i will go in soon. i have seen people in here sometimes with laptops. i might do that. bar/café.


fluido

this place looks cool. kinda alternative, possibly slightly heavier music. i have been wanting to try it for a while, but it is more club-like, so i am waiting for a friend to join me. dark decoration, funky lighting. bar/club.

galerie am wasserturm

this place is nearly always empty. it took me quite a while to realise it was a restaurant. with this name and being right next to the water tower, it is quite likely that they were trying to cash in on the scene, and were a little too obvious about it. especially so, since across the street is an older, well-established jewish kitchen with a similar name. restaurant.

gaststätte zur eule

this place is a real kneipe, ie. a neighbourhood bar for older people. i will try it once, i doubt i will try it any more than that. it looks fine, but not my type of place. bar.

goldbar

goldbar is a bar, mostly open and busy at night. it looks somewhat popular, but it doesn't hold much interest for me, i am not sure why. it comes across a little pretentious i suppose. i will try it though. bar.


green papaya

good basic thai food at good prices. popular. restaurant.
hausbar

very small, opens late, closes really late. i once left there around 7am. maybe it doesn't close? very packed. fun place. heavy-ish music. bar.

kommandanturm pizzeria

i am not positive about the name of this place. i'll have to check. seems semi-well-established, with a regular crowd, although i have not seen it super packed. a bit devoid of serious atmosphere. restaurant.

leutwerk

i have been here once with some friends. a bit greasy and dirty, it is a sort of cool alternative place. it is nice enough, but i don't quite see the special attraction. bar.


maa rani

indian restaurant. decent food, decent prices. it is nice, but i had a bad experience there. once i went and the whole time i was eating, the waiter (the owner?) went into the kitchen and screamed his head off at the cooks. very unpleasant. i haven't gone back since, although i should probably not judge it so quickly. there are other places around with more peaceful atmospheres. restaurant.

mao thai

this place is quite fancy and pricy, and seems to cater exclusively to an upper-crust segment of the population. i might try it one day, but i am really not that fond of places with their noses in the sky, so i will examine it carefully to decide if it is pretentious first. often quite full. restaurant.

marie 38

this place is truly tiny. i have only ever noticed it once, the day i took this picture. dark wooden furniture, nice colours, completely empty. i will try it out. it might be a perfect place to hang out and write, if they are friendly and don't mind if you order one coffee and sit for four hours. given that it is so empty, i think that would not be a problem, but you never know. bar/café.

monteroso

only open during the day. looks a little fast-foody. medium popular. it might be fine, but seems to have no particular atmosphere. i haven't been attracted. café/gelateria.

pão

used to be one of my very favorites. not as busy or popular as sowohl alsauch, but beautiful interior, and the owner seemed like a friendly guy. it turns out that he is quite volatile. he recently fired my friend a. from here. she seems to have gotten caught up in some kind of political battle between the owner, the manager (who i have never ever seen smile) and perhaps some others. needless to say i don't go there any more. a shame really, because there were a couple of other people working there who i enjoyed chatting with.

the place is slightly upscale which works against it in this neighbourhood. there is a lot of money around here, but the feeling is still a bit that of a student/reactionary neighbourhood, which is its roots, but at this point is more pretense than anything. pão is quite laid back and acts as both a restaurant and a café. good coffee, and very good food with mostly reasonable prices. they have live jazz on wednesdays at 9, and a brunch on weekends. people bring their kids in here weekend mornings. when the world cup was going, they set up a big tv for their customers, and this is where i watched the final against brasil. restaurant/bar/café. sucky website.





pasternak

or πactephak in cyrillic letters. named after boris pasternak. very popular, russian-jewish cuisine. lots of outside tables. restaurant.

pasternak café

or πactephak café in cyrillic letters. named after boris pasternak. affiliated with pasternak, of course. am wasserturm used to be here.

this is a very nice little café with some friendly staff (and some less so, including one guy who postures way too much, and another who is overly friendly with women and rude to guys; i haven't seen him lately though). sizable menu, lots of good stuff to choose from, tending to foods with strong flavours, as well as russian-influenced foods. cheap breakfasts and a very good schokoccino can be had here. light traffic during the day, getting busier at night. sometimes interesting music, including russian (or jewish?) music, but depending on who is there, the music might also be too loud and heavy. one of my favorite places, but new on the list.

the girl at the bar is new, i think, and is very sweet and friendly. i am not the best to judge this, but i think she has an accent, possibly russian.

the sandwich here is salmon on olive baguette with horse raddish, tomatoes, pesto and salad leaf. strong flavour, but good!



salve

i have no clue about this place. looks traditional italian. mostly empty. not much atmosphere. restaurant.


seeblick

i was in here once. i get a similar feeling as with leutwerk, ie. it is a bit dirty, kinda nice, and pleasant, but i am not quite sure why people would choose it over other places. it is cleaner and lighter than leutwerk though. it seems quite popular. perhaps it holds a bit of an old east-berlin charm. bar.


sonderbar

another of my favorites although i have not been lately. one of my friends used to work here. actually, i met her here when my sister visited from denmark. a little on the classy side, and the food is very good when the owner cooks. at least one of the other cooks is not as good. swings between busy and emptyish. medium prices. restaurant/bar.


sowohl alsauch

my current favorite, and one of the most popular places around, for good reason. it is unfortunately often very smoky, and the menu is somewhat limited with respect to food. open very late, typically 2 in the morning. the perfect place for budding authors, except for the smoke. i often go here and plug in my laptop and program, draw in my journal, or just bring a book and read. top-notch atmosphere. i hang out with some of the staff, really friendly people. many regular customers. café.



state o' maine

right next door to where i live. nice place, a bit dirty, but it has real charm and character. the main reason why i will likely not go here much is that the kitchen smells like real fatty grease. if that doesn't bother you, here is an alternative scene bar. bar.

suriya kanthi

sri lankan restaurant. simply incredibly good food! a must-try! i have had some of my best meals ever here. their ingredients are incredibly good-tasting. i wouldn't be surprised to find out that they were using organically grown stuff. mild to hot dishes. quite popular, very reasonably priced meals, extensive menu. restaurant.

tajmahal

good indian food. quite a large restaurant, but unfortunately mostly not that busy. i think they suffer from being a couple of doors over from one of the most popular of all the places in prenzlberg. restaurant.

tandoor a.k.a. naan

the busiest indian restaurant in the neighbourhood. always busy, winter or summer. quite friendly and the food is decent, and very cheap. large menu with every indian dish you could imagine from mild to spicy. vindaloo dishes are not that spicy though, and the naan was forgettable. still worth it on account of the very low prices. restaurant.


tarot

tiny little place, often quite full. alternative. bar.

terra nova

seems nice, medium popular, has reasonable prices. i will try it one day.

tomsky

the most popular place this side of prenzlauer allée. almost always packed, nice atmosphere, happy chatter, interesting lighting. bar.


uluru resort

i haven't been here yet. it looks like an australian frat-type place, so i am not super-keen, but i will go, just to be sure. restaurant.

vebereck

alternative bar, darker atmosphere, young crowd. heavier music than some places. seems quite popular. bar.

wein & mehr

i am not really sure what this place is. judging by their name, wine is central to their philosophy. restaurant.


winsenz

tiny little place, probably suffering from being too close to tomsky. nice enough, older crowd, perhaps 40s. never truly busy, never empty. bar.


yard

alternative place, possibly a little punk. i believe it has a pool table, and is (intentionally) a bit run-down. it looks ok, but this is not really my style, so we'll see if i get to it.

zum kiez

another kneipe .not much to say. older crowd.